by Chu
on
December 2, 2013
at
5:48 pm
'Tis the season for giving! Whether you celebrate Christmas, Hannukah, Kwanzaa, Festivus, the Happy Holiday Hyena, or nothing at all, there's no time like the present to support charitable causes. Here's a handful of events I'm currently supporting and would like to share with you: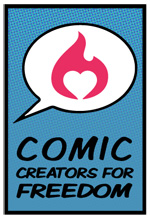 Comic Creators for Freedom!
Comic Creators for Freedom has once again teamed up with Love 146 for a week-long charity event to fund the fight against human trafficking. A donation of ANY amount will net you a neat wallpaper featuring the awkward school photos of characters from over 150 different webcomics– including Rhea from Slightly Damned!
Help Stan and Sharon Sakai!
It's no exaggeration that Stan Sakai is my hero. I'm a huge fan of his master work, Usagi Yojimbo, and he's quite possibly the nicest person in comics. Possibly the world! Unfortunately, Mrs. Sakai is ill and her home care costs more than their insurance will cover. CAPS is organizing an original art auction with all proceeds going to the Sakais, and Garage Art Studios is working on collecting donations for them through PayPal.

Support the victims of Hurricane Haiyan!
Devastating catastrophes tend to leave the public conscious very quickly, especially if they happen in a distant country. People don't want to think of the dreadful and dreary when the holidays are upon us. But the victims of Hurricane Haiyan still need aid! Please consider donating to the Philippine Red Cross.
Also, a couple of folks are organizing a Pinoy Komiks Anthology. As someone of Filipino descent, I've definitely got my eye on this project and plan on participating.
…and even if, for whatever reason, you can't spare the money or time for any of these, please at least spread the word about them!