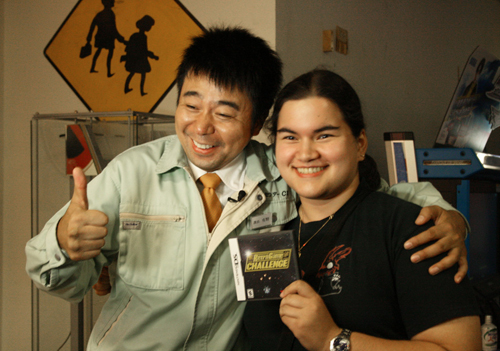 Chu meeting Shinya Arino, star and host of the Japanese TV show GameCenter CX (US: Retro Game Master).
I go by the nickname Chu and I am currently 24-years old. I attended the University of California Santa Barbara and graduated with High Honors with two Bachelor of Arts degrees in English and Japanese. From 2009-2011 I lived and worked in Saitama, Japan as an Assistant Language Teacher through the JET Programme. Right now I am living in the desert and trying to transform my love of comics and cartoons into something I can live off of. Wish me luck!
I've also been a fan of video games all my life. I'm a huge Nintendo nerd. My favorite genres include RPGs and Action/Adventure games, with my favorite game series being Pokémon, The Legend of Zelda, and Ace Attorney. I'm also a big fan of Skies of Arcadia.
RaiZap.com is my personal site where you can find information on my other works and friends.
My public Twitter account is @sdamned.
You can send me an e-mail at chu@raizap.com.
You can also ask me a question on Formspring.
Just check the FAQ first!