Posted January 23, 2018 at 02:26 am
Hey pals! I'm back from my travels and I'm jumping back into work! I don't have any trips or conventions planned until
Biggest Little Fur Con
and
Phoenix Comicon
in May. Maybe I'll be able to find the time to balance my life during a calm spring. And maybe I'll be able to balance my work better! On that note, please remember that Slightly Damned is returning to a "one page per Saturday" update schedule. No more bonus pages until I get my project juggling under control.
In the meantime, I wanted to remind you that
my online store is open again
! Please check it out for Slightly Damned pins, stickers, plushies, and lots of other goodies!
Also, check out this awesome Buwaro fursuit by Newada_Draco (
Twitter
/
FA
) at Further Confusion 2018!!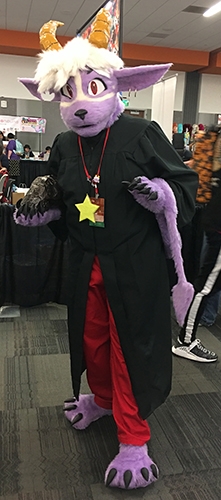 It really made my con to be able to see this in person! And I am always incredibly humbled whenever I see that anyone has enjoyed my work enough that it's inspired them to make something of their own in turn. Just... wow!