If you have a creation that you would like to see here so that it may be shared with other Slightly Damned fans, please don't hesitate to contact me.
**NOTE**
I will not put anything here that uses my artwork, including but not limited to narrations, music videos, icons, and wallpapers. If you really want to share something like that, go to the forum or visit the Slightly Damned club on deviantArt.
Atravir
Slightly Damned: The RPG – Made with RPG Maker XP.
Check the forum's RPG update thread here.
Ekkkkkknoes
A Thadius flash game!
Infernopidgeon
Joseph Darragh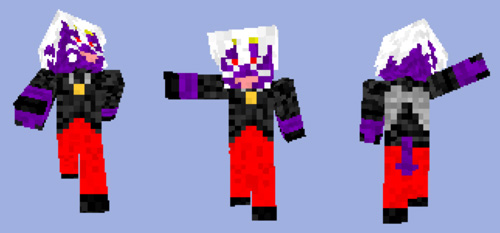 Buwaro Minecraft skin

Kieri Minecraft skin
Sethimine
Skai
Page 118-119 Dialogue Animation
Burning Demon.mp3 – Travisuped's remix of Slick's "Buwaro – The Fire Demon"
Videos by Chu
"Uptown Girl"

Download // YouTube

A silly little video set to Westlife's cover of "Uptown Girl". The other sound effects used in this are from Phoenix Wright: Ace Attorney.

Made 11/28/2007

"Buwaroll"

Download // YouTube

Another silly video set to Rick Astley's "Never Gonna Give You Up".
Yes, there is more to the video than just Buwaro dancing. The real stuff begins after the 0:40 mark.

Made 9/25/2008

"Drawing Buwaro"

Download // YouTube

A video of me, Chu, drawing and coloring a picture of Buwaro in Adobe Photoshop.
This is not a tutorial! It's just for fun.

P.S. I apologize for all the editing mistakes.

The song is "Buwaro's Theme" by Slick.

Made 9/5/2009

"Drawing Kieri"

Download // YouTube

A video of me drawing and coloring a picture of Kieri in Adobe Photoshop.
This is also not a tutorial!

The song is the theme from the Japanese movie Train Man.

Made 9/6/2009

"Drawing Death"

Download // YouTube

A video of me drawing and coloring a picture of Death in Adobe Photoshop.
Guess what: this is not a tutorial!

The song is "The Task at Hand" from Fire Emblem: Radiant Dawn.

Made 9/6/2009

"Sketching Rhea"

A video of me sketching Rhea on paper. I apologize for the poor quality; for this video, I held my camera in one hand and drew with the other. That's why it's so shaky and why you can't see everything.
Like the others, it's not a tutorial.

The song is "Wasurenagusa" by Karasuso.

Made 9/12/2009

"Last Christmas"

Perhaps the dumbest video yet, set to Wham!'s "Last Christmas".
Made 12/23/2009
Wallpapers by Chu

[800x600] – [1024x768]

[800x600] – [1024x768]

[800x600] – [1024x768]

[800x600] – [1024x768]

Originally from page 242
[800x600] – [1024x768]

Originally from page 257
[800x600] – [1024x768]

I'm not Jewish, but Happy Hannukah anyway!
[800x600] – [1024x768]

Originally from page 300
[800x600] – [1024x768]



Originally from page 331
[800x600] – [1024x768]

Originally from page 441
[800x600] – [1024x760] – [1280x960]

Originally from page 460
[800x600] – [1024x768] – [1280x960] – [1440x900] – [1920x1080]